This report is a flexible summary, with the aim of sharing and highlighting a wide range of data and policy information relating to London general practice published in a given week. Where we view information to be of significant interest it is reproduced directly below the links to make the key points quicker to digest. 
Please feel free to share any useful stats/links you think we could include in future reports. 
Official bodies   
NHS Digital  
London ICB

 

Patients with dementia recorded by GP practices

 

Estimated patients with dementia

 

Diagnosis rate

 

North Central

 

7,754

 

11,536

 

67.2%

 

North West

 

11,864

 

18,756

 

63.3%

 

North East

 

7,826

 

13,123

 

59.6%

 

South West

 

9,871

 

13,991

 

70.6%

 

South East

 

10,202

 

14,928

 

68.3%

 
 BMA 
BMA GPs committee England deputy chair and GP partner in Kingston Richard Van Mellaerts outlines what the Government must do to allow GPs to deliver better-quality care for patients.

 
Department of Health and Social Care 
Health and Social Care Secretary will convene the next NHS Recovery Summit with health experts to help drive innovation across the NHS.

 
Office for Health Improvements and Disparities 
Data tool presenting a range of GP practice level indicators using the latest available data.

 
UK Health Security Agency 
Public Accounts Committee 
National Audit Office 
To be published Summer 2024.

 
Policy, think tanks, charities and representative bodies
The Society of Occupational Medicine 
"GPs seem particularly vulnerable to burnout, with a recent systematic review and meta-analysis of 31 studies concluding they are at moderate to high risk.

"
 Social Market Foundation 
 Times Health Commission 
 NHS Providers 
 King's Fund 
 Health Foundation, Nuffield Trust and The King's Fund 
 NHS Confederation 
Bright Blue 
 Cancer Research UK 
 Bloomberg 
 Tony Blair Institute for Global Change 
 Health Equals 
 Reform 
 National Voices 
Institute for Public Policy Research 
Report:

Healthcare and prosperity: The NHS at 75

[5/7].

 

"34% of British adults have found it difficult to get the healthcare services they need through the NHS, since the pandemic began. This rises to 51 per cent of people with a life-limiting health condition."
 Centre for London 
Polling
YouGov 
 Ipsos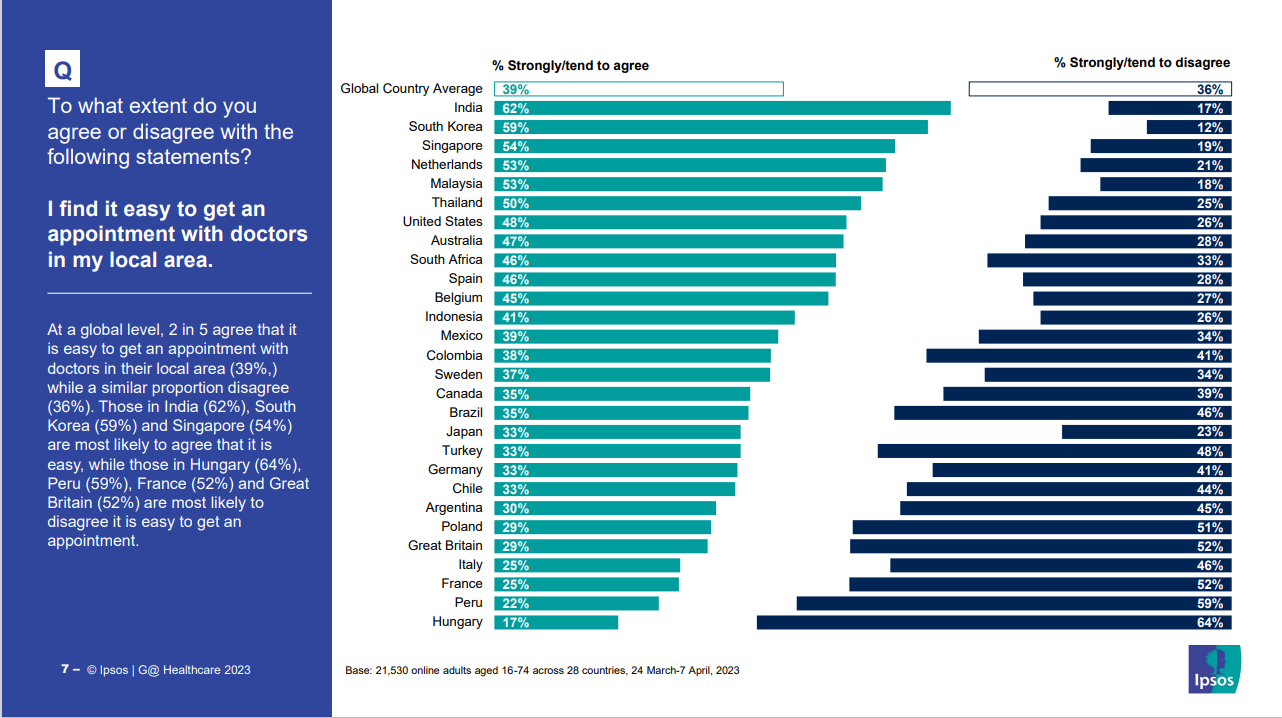 More in Common 
"In our focus groups, people often share 'horror stories' about lengthy delays for hospital appointments. This failure is usually attributed to lack of funding, or to misdirected funding – particularly the idea that the NHS spends too much money on managers rather than clinical staff. The exception here is GP surgeries, where our focus groups have identified increasing frustration and a willingness to reform the model and to end reliance on outdated booking systems."

 
London Trusts
Barking, Havering and Redbridge University Hospitals NHS Trust 
 Central London Community Healthcare NHS Trust 
 Kingston Hospital NHS Foundation Trust 
 South London and Maudsley NHS Foundation Trust 
Social media  
Thinktank New Local details

7 examples of the health service working collaboratively with communities

in this thread

.

 

Examples include initiatives in North Central and South London.